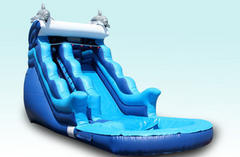 18ft Dolphin Splash Water Slide
$259.00
Dimensions:
Outlets: 1
Monitors: 1
Please call to reserve this item.
18' DOLPHIN SPLASH WATER SLIDE



Dolphin Water Slide Rental Tampa | Big Lou's Bouncies Tampa
This is an 18 foot tall dophin water slide. It's attractive blue and white colors as well as the wave and dolphins at the top of this water slide stand out bright and bold. You enter the stairs through the left front of the Water Slide and slide down the right side. This water slide features a large pool at the bottom for your family and friends to splash down into and cool off in those hot summer months. There is a misting hose at the top of the slide that will keep the water slide wet throughout the day. Children as little as 3 year old and teens up to 15 and some small adults under 180lbs can enjoy this water slide rental. You will need 35 feet in length x 20 feet in width and 20 feet in height to provide clearance to accomodate this water slide in your yard, this is a minimum set up area needed. Also Be sure to check out our Sno cone machine to round out your party. Also if you are looking for something smaller but still in the water slide category, check out our water combo bounce house rentals.